.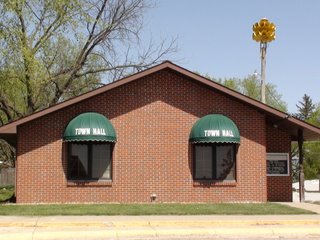 .
UPDATE, 2020-05-28:
Town Hall in Murray, NE is planning to reopen the Clerk's office to the public on June 1st.
Assessing late charges and disconnection services for utility bills will be back in force at that time.
*****************
Update 2020-03-20, 12:55 pm:
NOTICE OF CLOSURE OF VILLAGE OFFICE
Due to the current pandemic of the Corona Virus (COVID-19), the Village of Murray Town Hall Building will be closed to the public until further notice.
Business may be conducted by calling:
Shelli, Village Clerk @Town Hall, 402-235-2119
Jerome, Maintenance 402-306-5012
Email: murrayclerk@windstream.net
Please utilize the drop box outside the Town Hall for payments/applications.
Disconnection services and late fees/penalties will not be conducted throughout this time.
Thank you for your cooperation.
***
VILLAGE OFFICE at TOWN HALL:
106 W MAIN ST
MURRAY, NE 68409
MAILING ADDRESS:
VILLAGE of MURRAY
PO BOX 79
MURRAY, NE 68409-0079
BOARD of TRUSTEES:
Chairperson: Stan Flak
Pro-Tem: George Blessing (& Sewer Commissioner)
Don Strong, Street Commissioner
Theresa Sallach, Water Commissioner
Jeff Anderson, Parks Commissioner
.
If you have questions, concerns or an idea that you would like to discuss with the Village Board of Trustees, please feel free to contact the clerk at Town Hall, 402-235-2119, to request to address the Board at the upcoming meeting. Your presentation will be limited to no more than ten (10) minutes.
Meetings are the 2nd Tuesday of each month, 7 pm, at Town Hall, but you must make your request to be added to the agenda no later than 4:30 pm the Thursday prior to the meeting.
You're encouraged to attend meetings to keep up on the current Village activity. You do not need to be added to the agenda to do so. Please silence your phones and be respectful to the Board and all attendees.
Thank you.
Email: murrayclerk@windstream.net
OFFICE HOURS:.
Monday, Tuesday, Thursday, Friday:

8 am - 12 pm
12:30 pm - 4:30 pm
.
Wednesday:
9:30 am - 2 pm
2:30 - 6 pm
Closed Saturdays & Sundays
.
VILLAGE MAINTENANCE:
Jerome Speck
402-306-5012
.
Click any of the links below:
GENERAL PROVISIONS and VILLAGE STANDARDS
.
WATER/SEWER/TRASH BILLS:
Due the 10th of every month; electronic funds transfer is available.
.
RECYCLE and TRASH COLLECTION

:
Tuesdays
Have both recycle and trash containers to curb before 7a.m.
MURRAY PLANNING COMMISSION

:
As of August 13, 2019
Chairman Flak appointed citizen volunteers to the newly-formed Planning Commission: Ericka Olson, Chairperson; Linda Brouhard, Secretary; Rowdy Woodard, Member; and Robert Hayes, Alternate.
***
October 10, 2019
Per Shelli Hayes, Village Clerk, Robert Hayes and Gale Stanton are now Planning Commission board members, making it a full 5-person board.