---

A good friend sent this my way and I wanted to pass it along to you.  I don't know who the author is, but thought it was clever using the names of Nebraska towns, which are all capitalized, of course.  (I made a couple of additions to the original.)
A Trip Through Nebraska
This past summer, I traveled throughout the colorful State of Nebraska, in search of a Blue Hill, a Red Cloud, or a Silver Creek, but what I stumbled across was Clay Center, Brownville, Greenwood, and Roseland.
I began my trip by traveling Inland, and then headed south to North Loup, then north to South Sioux City.  I got turned around in Loup City, headed the wrong direction out of South Bend, and back on track at North Bend. It was then I discovered that West Point is in the east, Central City was off Center, Malcom isnt in the middle, and the Brady bunch lived east of North Platte.
There were towns along the way that really rocked.  Guide Rock, Rockville, Table Rock, and Keystone: but, to my Surprise, there was no rock at Plymouth.
The weather cooperated for the most part, but after a heavy rain, the flood Gates opened and flooded the Valley with Clearwater.  I was then stuck in White Clay for a day.  McCool Junction was like . . . Burr.
The trip wasnt without Hazard though.  I had to Dodge a Beaver Crossing the Wood River (probably on his way to Beaver City).  Had the Dickens scared out of me by an Archer with a Broken Bow, chased up an old Oak tree by a Bassett hound, suffered an allergic reaction to Angora wool, kicked by a Holstein, fell from a Butte, stung by a Bee, had to wade through Broadwater, pooped on by an
Eagle, pricked by a Rose, stepped on by an Angus, attacked by a Gibbon, experienced the Pierce of an Elkhorn.  Took a bad tumble in Falls City, but was back on my feet at Rising City.  Had to fight my way out of Battle Creek, nearly met my Waterloo when I was mobbed at Lynch, and almost drowned in Weeping Water, then almost tied the knot in Union...almost.
Although I didnt have the time to visit every Nebraska City, I was still able to Foster an Alliance with many a new Friend.  The people in Laurel and Hardy really made me laugh, but those in Crab Orchard were a bit grumpy. Folks in Homer were a big hit, but snobbish in Superior.  At times I was treated like a Champion and shown the Royal treatment.  Received a nice greeting in Valentine, too, but the town I was most attracted to had to be Magnet.
I always had plenty of food and drink along the way.  Everything from Concord grapes to Bartlett pears, black Angus steaks to Hershey bars. Never had to Cook and never had to open a can of Worms.
The Nebraska nights were awesome!  Auburn sunsets and Sterling moons. From the Flats in the east, where the Aurora borealis unfolds into Plainview, to the Western hills where you can see the Sparks coming out of Chimney Rock.  You could even see the cannonball chugging down the tracks at Wabash.
The entire Nebraska adventure was like a Page out of history, but after passing through Colon, I realized my wonderful trip had just come to . . . the end!
---

COUGAR WINTER SPORTS


Middle School Wrestling
Feb 22  @Platteview Tri, 4:15
Feb 26  @ Weeping Water Invitational, 9am
Feb 28 HOME, CONESTOGA TRI, 5:00
Mar 4 @ Fort Calhoun Tournament, 4:30
Mar 8  @ Fort Calhoun Tri, 4:15
Mar 15 @ Auburn Quad, 4 pm
Varsity Wrestling

Jan 22  @ Oakland-Craig Invitational, TBA
Jan 29  @ DC West Invitational, 9 a.m.
Feb 3  @ Fort Calhoun, 7 p.m.
Feb 4  @ Malcolm, ECNC Tourney, 3:00
Feb 11-12  DISTRICTS, Place & Time TBA
FEB 17-18   STATE TOURNAMENT, Place & Time TBA
Girls' Middle School Basketball
Jan 29  @ Johnson County Central, 6:30 p.m.
Feb 3  HOME v Weeping Water, 5:00
Feb 5  @ Weeping Water Booster Invitational, 8 a.m.
Feb 8  HOME v Syracuse, 4:30 p.m.
Feb 10  @ Louisville, 5 p.m.
Feb 19  @ Palmyra Tourney, 9:30 a.m.
Feb 22  @ Auburn, 4:30
Feb 26  HOME v Elmwood-Murdock, 10 a.m.
Girl's Freshman Basketball
Jan 24  HOME v Lourdes Central Catholic, 5:30 p.m.
Girls' JV Basketball
Jan 21  HOME v Fort Calhoun, 4:30 p.m.
Jan 25  HOME v Weeping Water, 6 p.m.
Jan 27  @ Johnson County Central, 4:30
Feb 8  HOME v Ashland-Greenwood, 6 p.m.
Feb 11  HOME v Syracuse, 4:30 p.m.
Girls' Varsity Basketball
Jan 20 @ Mead, 6 p.m.
Jan 21  HOME v Fort Calhoun, 6 p.m.
Jan 25  HOME v Weeping Water, 7:30 p.m.
Jan 27 @ Johnson county Central, 6 p.m.
Feb 1  ECNC TOURNAMENT QUARTER FINALS, Place & Time TBA
Feb 4  ECNC tOURNAMENT SEMI-FINALS, SECC in Lincoln, TBA
Feb 5 ECNC TOURNAMENT FINALS, SECC in Lincoln, TBA
Feb 8 HOME v Ashland-Greenwood, 7:45
Feb 11 HOME v Syracuse, 6 p.m.
Feb 14-15 & 17   SUB-DISTRICTS, Place & Time TBA
Feb 25   DISTRICT FINALS, Place & Time TBA
Mar 3-5 STATE TOURNAMENT, Place & Time TBA
Boys' Freshman Basketball
Jan 22  HOME CONESTOGA INVITATIONAL, 9 a.m.
Jan 24  HOME v Lourdes Central Catholic, 6:30 p.m.
Boys' JV Basketball
Jan 21  HOME v Fort Calhoun, 4:30
Jan 25  @ Auburn, 6:00
Jan 27  @ Johnson County Central, 4:30
Feb 11  HOME v Syracuse, 4:30
Feb 18  HOME v Weeping Water, 6:00
Boys' Varsity Basketball

Jan 20  @ Mead, 7:45
Jan 21  HOME v Fort Calhoun, 7:45
Jan 25  @ Auburn, 7:30
Jan 27  @ Johnson County Central, 7:30
Jan 31 ECNC TOURNAMENT QUARTER-FINALS, Place & Time TBA
Feb 3 ECNC TOURNAMENT SEMI-FINALS,  @ SECC in Lincoln, TBA
Feb 5  ECNC TOURNAMENT FINALS, @ SECC in Lincoln, TBA
Feb 11  HOME v Syracuse, 7:45
Feb 18  HOME v Weeping Water, 7:30
Feb 21-22 & 24  SUB-DISTRICTS, Place & Time TBA
Feb 28  DISTRICT FINALS,   Place & Time TBA
Mar 10-12  STATE TOURNAMENT,  Place & Time TBA
---
SPAGHETTI FEED
The Conestoga Post Prom committee will be hosting
a spaghetti feed at the high school
during the Fort Calhoun basketball games on
January 21 from 5-8pm.
Cost is $5.00 a plate for adults, $3.00 for kids 12 and under. 
That includes spaghetti, bread, salad, dessert & drink.
Funds will help offset the cost of the post prom event.
---
Trap Team Sign-Up

Saturday, January 29th
Murray Christian Church
1:00PM
For any student of Plattsmouth or Conestoga from grades 6 through 12.

---
IRISH MUSIC CONCERT
Greenblatt & Seay's Schoolhouse Performance Series features a concert of
Irish music on
Sunday, March 13, at 2:30 PM.
Greenblatt & Seay & Friends will be singing and playing a variety of instruments, including fiddle, pennywhistle, guitar, hammered dulcimer, and banjo. Traditional Irish tunes will be featured, along with some Greenblatt & Seay originals inspired by the great Irish traditions.
Greenblatt & Seay have been playing and singing together since the night they met, decades ago.  Their performance on March 13 will include the championship fiddling styles of Deborah Greenblatt, and the fancy whistle-playing of David Seay.
The concert will be followed by light refreshments, and a chance to chat
and even jam with the performers.
Avoca is in southern Cass County, Nebraska, on the 13 C Spur,  one mile south of Highway 34.
Admission is $5.00 for adults, and $1.00 for children and students.
For more information, write to:
Greenblatt & Seay

call  402-275-3221,
The historic Old Avoca Schoolhouse was built in 1925, and has been the home of the Schoolhouse Performance Series since 1990.  Music lessons, workshops, fiddle camps, and field trips are offered by Schoolhouse residents, Greenblatt & Seay, and are available by appointment.
---
---

PICASSO and EINSTEIN at MAHONEY STATE PARK?
KBC productions announces that the second play in its winter season,
"Picasso at the Lapin Agile,"
opens on
Saturday, January 22 at Mahoney State Park.

"Picasso at the Lapin Agile," is written by Steve Martin.  Most famous for his comedic skits andappearances in many movies and television shows, Mr. Martin wrote the script in 1993.  The comedy places Albert Einstein and Pablo Picasso in a Parisian café in 1904, just before Einstein transformed the world of academia with his theory of relativity and before Picasso set the art world on fire with cubism.  This fictional tale sees two geniuses discussing the century's achievements as well as many other fanciful topics.  You will be treated to giggles aplenty and
moments of sheer enlightenment.
Staff suggests a PG13 rating for this show.

The show is produced by Kevin Colbert and directed by Katherine Cover, both of Weeping Water.  The rest of the cast includes  William M. Cover II and Timron Gilfert of Weeping Water, Noelle Bohaty, Clay Stevens, Kyle Lorenz, Mellisa Marinovich, Travis Triplett and Grant Covney all of Lincoln;
Kevin Holdorf of Manley; and Cynthia Sheldon of Elmwood.

The production runs January 22, 23, 28-30, February 4-6, 10-14 and 18-20.
Curtain times are 7:30pm except for Sundays which are 2pm matinees.
Tickets are $8 for adults and $6 for children.
A state park sticker or purchase of a day pass is required for entrance into the park.
For reservations, please call Mahoney State Park at (402) 944-2523 ext. 7122.


Pictured:  Clay Stevens, Noelle Bohaty and Kyle Lorenz all of Lincoln appear in
KBC Productions' "Picasso at the Lapin Agile."
---
Otoe County Genealogical Society

"The Otoe County Genealogical Society will host its February 10th meeting at
7:00pm at the Unadilla Community Library at 770 'G' Street in Unadilla, Nebraska.
A presentation titled "Researching Your Civil War Ancestors" will be given to assist
researchers in, not only locating information about their Civil War ancestors, but also in the
procedures of joining the Sons of the Union Veterans of the Civil War, and Daughters of
Union Veterans of the Civil War."
---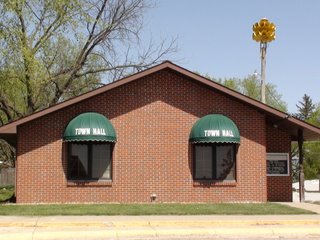 DOG LICENSING

It's time to get your dogs licensed, once again.
You can find a form under the 'Village Office' tab at the top of this page.
---
---
Girl Scout Cookie sales have Scout Troop 201 of Murray really busy this time of year.The girls are selling their famous cookies now through January 23rd.

Please support your local Girl Scout troop and their activities with a purchase.  If you'd like to order and have not been contacted by a Girl Scout you can still order them by contacting Troop Leaders,
Rachelle Bock at
bockr1@yahoo.com

or
Heather Larson at
heatherdlarson@windstream.net
.

Prices are $3.50 per box and the flavor choices, listed below, this year feature a new one, 'Shout Outs', which have a light 'gingerbread' taste.

Thanks-A-Lot
Lemonades
Shortbread
Thin Mints
Peanut Butter Patties
Caramel DeLites
Peanut Butter Sandwich
Cookies will be delivered after March 1st.

Thank you for your support of the local Girl Scout Troop 201.
---

AUDITIONS at the LOFTE
The Lofte Community Theatre near Manley will hold auditions for "Leaving Iowa" on
January 31 and February 1 at 7pm.  The production requires three men and three women. 
Auditions will consist of cold readings from the script. 
The production will be directed by Kevin Colbert of Weeping Water.

"Leaving Iowa" is the story of Don Browning, a middle-aged writer who decides it is finally time
to take his father's ashes to his childhood home.  But when Don discovers that Grandma's house
is now a grocery store, he begins traveling across Iowa searching for a proper resting place for
his father.  The father-and-son road trip shifts smoothly from the present to Don's memories of
the annual tortuous vacations of his childhood.

The production will serve as the Lofte's entry in the upcoming Nebraska Association of
Community Theaters competition March 18-20.  It will also be the 2011 season opener for
the Lofte with performance dates on May 28, 29, June 3-5 and 9-12.

Those with questions in regards to the production should contact Lofte Artistic Director
Kevin Colbert at (402) 234-2553.


The Lofte Community Theatre is a 501(c)3 non-profit charitable organization supported in
part by The Cooper Foundation, The Midlands Community Foundation, and the Cass County
Visitors Promotion Committee.  The Lofte Community Theatre is dedicated to providing
opportunities for area residents of all ages to participate in the creation process and
companionship of live theatre in rural Nebraska and to enjoy the social, artistic, and educational
benefits of this art form.
---
---

REGISTRATION for SCHOOLHOUSE FIDDLE CAMP

Registration is now open for the 2011 Schoolhouse Fiddle Camps, in the Old Avoca Schoolhouse,
in Avoca, Nebraska.
Deborah Greenblatt, championship fiddler, author of many fiddle collections, will help the campers
get in touch with their inner fiddler.  The course of study during the Schoolhouse Fiddle Camps will
be designed specifically for the individual campers who sign up.
Fiddle Camp for Beginners is Monday, June 13 - Friday, June 17.  This 5 day camp includes some
of the basics and fun of fiddling, such as performing in public, practice techniques, reading music,
playing y ear, and jamming.  Fiddling styles include bluegrass, Cajun, Irish, Klezmer, old-time, and
newly composed tunes by the campers.  Movement and singing are included in the experience.
Fiddle Camp for Intermediate/Advanced Fiddlers is Monday, July 11 - Friday, July 15.  Campers
will discuss picking tunes for contests, performing in public, practice techniques, reading music,
playing by ear, playing for dancers, back-up fiddling, arranging twin fiddle pieces , and jamming.
Many fiddling styles will be represented, including original compositions by the campers. 
Campers can sign up for all 5 days, or just 2 days, or just one day of Intermediate camp.
Monday & Tuesday is for reading fiddlers/violinists who want to read more tunes. This mini-camp
is perfect for fiddlers who want to improve their music reading skills, and for classically trained
violinists, violists, and cellists who are interested in various fiddling styles. Using sheet music in
standard notation, these campers will get to improve their sight reading, and experience the fun
of playing fiddle tunes at the same time! Fiddling styles included in the sessions will be tailored
to the interest of the campers who register.
Wednesday & Thursday is for fiddlers/violinists who want to learn tunes by ear. This mini-camp
is designed to jump-start your ability to pick up tunes quickly by ear, and to make them stick!
Tunes used will reflect various styles, meters, tempos, and difficulty levels.
Friday is for fiddlers who "just wanna have fun". This mini camp includes jamming, modulating,
singing, dancing, experimenting, sharing, improvising, and playing fiddle related instruments.
Each day is scheduled from 9 AM - 1 PM.  Registration is available on line at
www.greenblattandseay.com.
For more information, contact Deborah Greenblatt at debby@greenblattandseay.com.
---

The CASS COUNTY GOING GREEN recycle trailer will be located in the
southwest corner of the Murray Rural Fire Dept.'s parking lot the following dates:
January 29-31
The Waste Management recycle bins located behind Town Hall are for
Murray residents only.
---
HOW to SUBMIT ARTICLES for this NEWSLETTER...
Event announcements and advertising can be an enormous expense when
you're wanting or needing to get the word out.  If you've checked into regular
newspaper pricing lately for such items, you'll know what I'm talking about.  So
why spend your hard-earned money, when you can accomplish the same thing
right here - FREE - on your local news website?
Below is a list of categories that will cost you absolutely nothing, except the
time to submit it, (which you'd have to do with a regular newspaper anyway):
Wedding / Engagement Announcements and Photos
Birth Announcements
Letters to the Editor
Birthday Greeting
Upcoming Events
Cards of Thanks
Lost and Found
Obituaries
Recipes
and So Much More.
That's right!  These are all items that can appear FREE of CHARGE
in each Wednesday's Murray Newsletter and/or Calendar!
All YOU have to do is send the information to us - it's that simple!
Deadline for submissions to each week's Wednesday Newsletter is
NO LATER THAN NOON on the prior MONDAY and it's so easy to submit
your news.

1.)  You may call your information to 402-235-2926,
Leave a voice mail with your name phone number.
2.)  Email your story to Editor@MurrayNebraska.com
NO 'zip' files, please, and send photos in jpg format, if possible,
no larger than 340 x 480 pixels. (Picnik.com is a FREE photo editing website
where you can edit your photos before submitting them.  Try it, it's easy - and FREE!)
3.)  Send items via the U.S. postal service to:
Editor, MurrayNebraska.com
201 N How Ave, Murray, NE, 68409-8403. 
(When mailing items you'd like to get back, please enclose a self-addressed,
stamped envelope.)
Remember to include 'who, what, when, where and why', along with any other
helpful details, such as a contact person and phone.
Thanks for helping to keep YOUR Murray Newsletter fresh and up-to-date!

***

SUBSCRIBE to the MURRAY NEWSLETTER...

We're glad you're enjoying reading the FREE Murray Newsletter!
Would you like to automatically receive it every week?
At the top of the 'Home' page, just slide your mouse over the 'WHAT'S NEW' tab. 
When the drop-down menu appears with 'NEWSLETTER', slide the mouse to
the right to 'SUBSCRIBE to NEWSLETTER', then fill in your e-address.
It's absolutely FREE and no need to worry...we won't sell or distribute your
address to anyone!
Community Sustaining Sponsors 2011

2011 Community Sustaining Sponsor

2011 Community Sustaining Sponsor

2011 Community Sustaining Sponsor

2011 Community Sustaining Sponsor

2011 Community Sustaining Sponsor

2011 Community Sustaining Sponsor

2011 Community Sustaining Sponsor

2011 Community Sustaining Sponsor

2011 Community Sustaining Sponsor

2011 Community Sustaining Sponsor

2011 Community Sustaining Sponsor

2011 Community Sustaining Sponsor

2011 Community Sustaining Sponsor