"How appropriate that the month of taxes
begins with April Fool's Day and ends with cries of "May Day!"
(Anonymous)
---
COUGAR SPRING SPORTS
Middle School Boys' & Girls' Track
April 28, @ JCC Invitational 4pm
May 3, @ Yutan, 1:30pm
May 13 ECMC Meet @ HOME, 2pm

Varsity Boys' & Girls' Track
April 30, ECNC Meet @ Malcolm, 10am
May 6, JCC Invitational, 9am
May 12, Districts, Time and Place TBA
May 20 State Championships, Time and Place TBA

Boys' Varsity Soccer
April 29, Conestoga Gold, 5pm
April 30, Conestoga Gold, TIME TBA

Girls' Varsity Soccer
April 30, Conestoga Gold, 12pm
---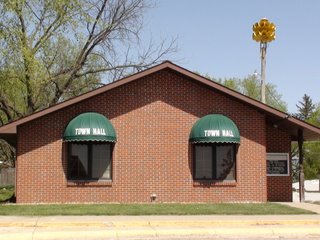 The Murray Village Board meeting minutes are now posted. 
You can read them by clicking on the 'Village Office' tab above.
---
Murray Troop 201 Junior Girl Scouts
will have a
Bake Sale & Hot Dog Stand
Saturday, May 21st
7am until noon
Murray Christian Church
In the event of rain, we will be located inside the Murray Christian Church.

The Junior Girl Scouts are working toward earning their Bronze Awards and
with the proceeds from this event they will be purchasing items for the
Plattsmouth Animal Shelter.  The day of the event we will be accepting new
or used pet supplies which can include collars, leashes, pet toys, etc.

Take a break during the Murray Garage Sales and stop by for a quick
breakfast or lunch item to support a wonderful cause.
Thank you!
Girl Scout Troop 201
---
MURRAY GARAGE SALES
FRIDAY & SATURDAY
MAY 20 - 21, 2011

Besides the form below, sign-up forms will also be available at the
Post Office, Murray State Bank and Town Hall after May 1st.
-----------------------------------------------------------------------------------------------------------------------------------

Murray Garage Sales
Friday and Saturday
May 20 - 21, 2011
8 a.m. - ?
Name:  ____________________________________
Phone:  ____________________________________
Sale Location:  ______________________________

My sale days (same cost if doing one or both days) : 
Friday, May 20 ______  Saturday, May 21 ______

Items of Special Interest to Note on Maps, (where space allows):

1.  ___________________________________
2.  ___________________________________
3.  ___________________________________
Print, fill-out and send this form with $12.00 to cover cost of ink, fliers, advertising in
newspapers, maps, etc. NO LATER THAN MAY 15, 2011 to:
Pat Zeigler
201 N How Ave
Murray, NE  68409-8403
Call with ?'s, 402-235-2926
or email
Editor@MurrayNebraska.com

---

RECYCLE SCHEDULES for MURRAY, NEHAWKA & BEAVER LAKE
The CASS COUNTY GOING GREEN recycle trailer will be located on these dates
in the following locations:
April 23 -29, Murray
April 30 - May 6, Beaver Lake
April 30 - May 6, Nehawka
(Murray will also continue to have the recycle bin located behind Town Hall every day,
although this is for Murray residents only.)
###
CASS COUNTY RECYCLE CENTER
13780 12th ST
PLATTSMOUTH, NE  68048
402-296-9165
OPEN FRIDAY - SATURDAY
8 a.m. - 4:30 p.m.
$15 FEE for LOADS NOT TARPED, NETTED or TIED DOWN!
CHARGES for INCOMING ITEMS:
Metal:
$2.00 for less than pick-up load
4.00 pick-up load
10.00 any dump truck or dump trailer
Appliances:
$5.00 each:
Washers, dryers, microwaves, water heaters, lawn mowers, refrigerators, air conditioners and freezers.
Additional $30 fee if freon is not removed!
Used Oil - Free
Yard Waste:
Tree limbs, leaves, grass clippings and garden brush.
Limbs under 24 inches round must be cut into lengths no longer than 8 feet;
20 - 40 inch - round, no longer than 4 feet in length;
over 40 inches round must be no longer than 3 feet long.
$20.00 charge per load if any trees are larger than 23 inches across!

$4.00 - Cars & Vans
5.00 - Pick-up or Trailer up to 6'
8.00 - Full-size pick-up or Trailer up to 8'
12.00 - Trailers over 8'
15.00 - Dump truck or Trailer under 10'
25.00 - Dump truck or Trailer over 10'

Tires:

$ 4.00 each Car or Pick-up
8.00 each Semi
13.00 each Tractor

Concrete:

$ 5.00, Pick-up or Regular Trailer
10.00, up to 10' Dump Truck or Trailer
15.00 double axle Dump Truck or Dump Trailer

CHARGES for OUT-GOING ITEMS:
Chips -  $ 3.00 each skid-loader bucket
10.00 each loader bucket
Compost - $  5.00 each skid-loader bucket
15.00 each loader bucket
FREE for SELF-LOAD:  WOOD CHIPS!
---
---
For a schedule of Arbor Day events, click on the link below.
The link for the schedule is under the photo of the child in the greenhouse.
http://www.nebraskacity.com/nctc/arbor_day_celebration.aspx
---
---
Need a Daycation???

"Spring" Into the Valley Tour
April 29 - May 1

Take a Springtime tour of the Scenic Weeping Water Valley during our
"Spring" Into the Valley promotion!
Many of our 19 member businesses and attractions will be hosting special
events, offering discounts, holding drawings or giving out free goodies. 
Stop by www.VisittheValley.org for a complete listing of locations and specials.

Pick up a passport from any participating member, obtain five or more
stamps by visiting other businesss throughout the weekend, then turn your
passport in at Plantman Nursery for a FREE four-pack of annuals.

See you soon in the Valley!

* * * 

The Scenic Weeping Water Valley Association (SWVA) is a 501(c)(6)
non-profit corporation dedicated to promoting tourism to the southern
Cass County, Weeping Water Valley area.  Communities in the Scenic
Weeping Water Valley include Avoca, Beaver Lake, Eagle, Elmwood,
Manley, Murdock, Murray, Nehawka and Weeping Water.  There are
currently 16 business members and 3 honorary member museums in
the Association.
---
---
Several Businesses Starting, Expanding in Nebraska

Worldlawn Power Equipment, Inc., Beatrice
Worldlawn Power Equipment, Inc. kicked off operations for Beatrice's newest
corporate citizen and manufacturer of lawn mowing equipment. The company
became interested in purchasing the assets of Encore Manufacturing and main-
taining the plant location as part of its plans to expand its U.S. operations and
residential mower product lines from Industry, Calif., and to further branch out in
manufacturing greater numbers of commercial-sized lawn mowers. Until the an-
nouncement, the California location was the only U.S. facility operated by parent
company Jiangsu World Plant-Protecting Machinery Co., Ltd., in Danyang City,
Jiangsu Province, China. The company has hired ten employees, and may initially
hire as many as 25-35 total. The company will restart the Encore brand as well
as grow the Worldlawn brands of residential-sized and commercial-sized mowers.

BD Medical West, Columbus
BD Medical West invested $50 million for the addition of 48,000 sq.-ft. to its
522,000 sq.-ft. Columbus West facility, adding production lines for its premier
PosiFlushTM Pre-Filled Saline Syringe. With this expansion, BD-Columbus West
will also add 40-45 new jobs over the next two years, which currently employs 875.
Duncan Aviation, Lincoln     
Duncan Aviation, a premier aircraft maintenance, modification and refurbishment
service provider headquartered in Lincoln, Neb., is proud to announce paint expan-
sion plans for its Lincoln facility. The expansion, set to begin this spring, will add a
new paint facility with 45,000 square feet to the existing 440,000-square-foot facility
located on the east side of the Lincoln Airport. The expansion is scheduled to be
complete by April 30, 2012.

ePower Engine Systems, LLC, La Vista
ePower Engine Systems, LLC received $500,000 Community Development Block
Grant (CDBG) funding through the city of LaVista from DED to help with startup its
business venture and manufacturing facility in La Vista. ePower Engine Systems,
LLC, will market a patented diesel/electric drive train modification  for Class 8 heavy
trucks that can significantly improve fuel efficiency. The company will manufacture
the battery packs and computer control system enclosures that make up the ePower
system in LaVista. ePower expects to create 20 full-time jobs.

Graepel North America Inc., La Vista
In October 2010, La Vista received $477,000 in Community Development Block
Grant (CDBG) funding from DED to assist Graepel North America Inc., establish a
new manufacturing operation. According to recent information, the project will result
in 16 full-time positions and the company will invest $2 million to complete the project
by the end of 2012. The La Vista facility marks the company's first North American
manufacturing operation. Nebraska was chosen as the home of the facility due to
location, business climate and proximity to shipping hubs. Headquartered in Germany,
Graepel manufactures perforated and stamped sheet metal components for the
agricultural machinery, construction equipment and trucking industries worldwide.
Graepel North America Inc. serves the North American market.

Neapco Components, Beatrice
Neapco Components, a subsidiary of Neapco Holdings, LLC, and a leading
manufacturer of driveline components and assemblies for automotive, off-road
and commercial vehicle markets, recently celebrated a major expansion of its
manufacturing facility in Beatrice. The expansion is expected to add 150 jobs in
2010 and 2011.  Employment at the Neapco Beatrice Plant is expected to reach
275 by the end of this year. With the additional 100,000 sq. ft of space, the manu-
facturing floor space at the plant has grown to about 280,000 sq ft.  The Neapco
facility produces halfshafts, steering shafts and driveline components for a wide
variety of automotive aftermarket and non-automotive customers in the U.S. and
Canada.

NOVEL Chemical Solutions, Crete
The city of Crete recently received $237,000 Community Development Block
Grant (CDBG) funding from DED to assist NOVEL Chemical Solutions, a new
business that's poised for accelerated growth in Nebraska. Created in 2008,
NOVEL Chemical Solutions produces novel Aromatic Halides, Girgnard Reagents,
and novel Building Blocks for the pharmaceutical, biotech, agrochemical, animal
health and educational research industries. The project will create seven new full-
time positions.

Nature Technology Corporation Receives $920,000 Grant
The $920,000 funding will allow NTC to continue gene therapy research and col-
laborate with two Johns Hopkins University spinoff companies. www.natx.com
Nature Technology Corporation (NTC) received a Small Business Innovation Research
Phase II grant from the National Institute of General Medical Sciences.
---
Nebraska Tops Rankings
* Nebraska is the 2nd Healthiest State for Stress, according to the Associated
Press's (AP) Economic Stress Index.

* The AP's Economic Stress Index also ranked the following 6 Nebraska counties
in the Top 20 least economically stressed counties with populations of at least 25,000:
2. Buffalo County
9. Madison County
12. Lancaster County
15. Platte County
16. Lincoln County
19. Adams County
http://hosted.ap.org/specials/interactives/_national/stress_index/

* Sand Creek Post and Beam of Wayne, Neb. was named 2011 Nebraska Small
Business of the Year by the U.S. Small Business Administration (SBA).
Others recognized by the SBA included:           
* Technical Maintenance & Service, Lincoln, as Small Business of the Year
2011 for Congressional District 1
* Nebraska Dance, LLC, Omaha, as Small Business of the Year 2011 for
Congressional District 2
* Clint Spearman Trucking, Scottsbluff, as Small Business of the Year 2011
for Congressional District 3
* Ronco Construction Company, Omaha, Family Owned Business of the Year
2011 for the State of Nebraska
* Cindy K. Johnson, Grand Island Chamber of Commerce, as Women in
Business Champion of the Year 2011-Statewide winner and Region VII winner
* Lisa Wolford, CSSS.Net, Bellevue, as Veteran Services Champion of the
Year 2011 for the State of Nebraska
* Dave Jibben, West Central Nebraska Development District, Inc., Ogallala,
as Financial Services Champion of the Year 2011 for the State of Nebraska
www.sba.gov/ne
* For the second time in three years, Fremont Contract Carriers (FCC) of Fremont
has been recognized by the Truckload Carriers Association (TCA) as the "Best
Fleet to Drive For."  FCC received this recognition in 2009 and now again in 2011. 
This "Best Fleet to Drive For" program has only been in existence for three years. 
The TCA represents all truckload carriers in both the United States and Canada. 
To be selected as the best from this large group of trucking companies in quite
humbling. 
www.fcc-inc.com/
* Companies wanting to locate in high traffic hubs will find the second highest
rate of long haul freight activity in the U.S. in the State of Nebraska. The ranking
was recently unveiled in the 2010 INRIX National Traffic Scorecard Annual Report.
The "freight activity by state" ranking is new to this year's report and not only high-
lights the importance of states with significant corridors-Nebraska's I-80 among
them-but states with key corridors in combination with one or more crossroad
city. According to INRIX, "These top five have on average twice the relative long
haul freight activity as compared to the average state." 
www.inrix.com/scorecard/TopFreightState.asp
* American Cowboy, the Western lifestyle magazine, named North Platte as one
of 20 Best Places to Live The West.
http://americancowboy.com/travel/trips/texasoklahomagreaplains
* Lincoln was rated first in the 2010 Gallup-Healthways Well-Being Index, with the
highest percentage of satisfied residents.
www.gallup.com/poll/146789/Jobs-Key-Residents-Satisfaction-Communities.aspx
* Gallup named Lincoln as the second-happiest city in the U.S. in its Well-Being
Index.
www.gallup.com/poll/146645/Boulder-Colo-Leads-Metro-Areas-Wellbeing.aspx
***

State Announces Second Reverse Trade Mission Sept. 7-10
"Bringing the World to Nebraska" is the mission of the State's Second Reverse
Trade Mission (RTM), slated for Sept. 7 through Sept. 10 in conjunction with the
annual Nebraska Diplomats Passport to Nebraska Weekend. The second RTM
will emphasize the food, energy, and water industries, targeting many countries,
including China and numerous European nations. Governor Heineman is planning
to host around 75 international guests. The State is focused on foreign direct in-
vestment and creation of new export opportunities. The RTM is expected to involve
CEOs and company executives with particular business expertise matched to
specific goals and opportunities available with Nebraska-based companies.
Additional information on the reverse trade mission is available online at
www.WorldToNebraska.com.
FREMONT POWER PARK
Fremont received $982,892 CDBG funding from DED to move forward with
developing a power park site equipped and "shovel ready" with basic infrastructure
to attract high tech data centers, high tech industries, and companies with inten-
sive power needs. Fremont is in the process of developing 80-plus acres into the
speculative data park in the city's north central section. The site has large quantities
of low cost, reliable power (with the ability to provide up to 25+MW), water, sewer,
and telecommunications. The property also offers green advantage capabilities in
construction and operation, including geothermal and outside air economization for
cooling. On completion, the park may be leased or purchased by a single business,
or multiple businesses. The project will create at least 31 full-time jobs.
For information about Fremont's speculative data park, contact Jan Rise at
402-727-2624, or janrise@fremontne.gov.  Also visit www.TechNebraska.com.
Tecumseh Becomes First DED Leadership Community

The City of Tecumseh is the first Nebraska community to earn designation as
DED Leadership Community. DED initiated the Leadership Community desig-
nation to help communities institute a solid planning and implementation process
in face of constant new challenges and pressures.  For information on Tecumseh,
contact Paula Darling, City Clerk, 402-335-4011, or pdarling@windstream.net.
For additional DED Leadership Community program information or to apply for
the program, visit
http://www.neded.org/community/community-info/community-improvement/
community-improvement-program.
York Earns Nebraska EDCC Designation
York has become a Nebraska Economic Development Certified Community (EDCC).
The Nebraska Economic Development Certified program, sponsored by the Nebraska
Diplomats, is one of a handful nationally that recognize communities' economic devel-
opment preparedness. DED administers the application process.
For information about York, contact Cassie Seagren, Executive Director of York County
Development Corp., at 402-362-3333, or cseagren@yorkdevco.com
For information about the Nebraska Economic Development Certified Community
program, or a full list of certified communities, visit:
www.neded.org/economic-development-certified-community/certified-communities.
DED Annual Report Available Online
The 2010 FY Nebraska Department of Economic Development Annual Report is
available online at:
http://www.neded.org/files/AnnualReport/DED_AnnualReport_2010_WEB.pdf.

THE NEBRASKA DEPARTMENT OF ECONOMIC DEVELOPMENT
www.neded.org | 800-426-6505 | patty.wood@nebraska.gov
301 Centennial Mall South | P.O. Box 94666 | Lincoln, NE 68509-4666
Our Mission: To develop economic opportunities by keeping Nebraska
businesses, communities and people competitive.
If appropriately credited, material in this newsletter may be reproduced
without permission. It is the policy of the Nebraska Department of Economic
Development not to discriminate on the basis of sex, disability, race, color,
religion, marital status, age or national or ethnic origin.
---
---
---
It's Drive Time

Nebraska is entering peak golfing season, which means there's
no better place to tee it high and let it fly.
The state's diverse landscape makes for all kinds of great golf. You'll
find nine-hole gems, sand greens, links-style courses, and several
national award winners-including a Golf Digest pick for one of
America's best new courses.
Learn more about Nebraska golf and request a free brochure . Packed
with beautiful photography and information about dozens of courses
across the state, it will give you a glimpse into what makes Nebraska
such a popular golfing destination.
So what are you waiting for? It's time to get driving.
---
---
The Lofte Advances to Regional Competition

The Lofte Community Theatre's cutting of the full-length play,
"Leaving Iowa,"
recently won top awards at the
Nebraska Association of Community Theaters competition
and will be advancing to the
Regional Competition
being held in
Salina, KS April 27-May 1.
To help offset travel costs,  The Lofte will be collecting a Free Will
Donation and all proceeds will be designated for Region V expenses.
"Leaving Iowa" will be the Lofte's season opener and the full-length
play will run May 28-June 12.
If you could not attend the free will performance on April 26th, but still
wish to contribute to the Lofte team, please contact the Lofte's box
office at (402) 234-2553.
---

"Annie" Auditions at the Lofte

The Lofte Community Theatre will be holding auditions for its summer musical,
"Annie"
at 2pm and 7pm on Sunday, May 8,
and
7pm on Monday, May 9.
There are six roles available for girls ages 7-13.  It is suggested that children come
to the Sunday afternoon audition session.  There are roles for eight men and eight
women of various ages.  A complete cast list can be found on the Lofte website,
www.Lofte.com.

The production will be directed by Kevin Colbert.  Those who audition should bring
a prepared song of no more than one minute in length.  An accompanist is provided. 
Dress comfortably and wear appropriate shoes for dancing.  If necessary, callbacks
will be held between May 10 and May 12.
Rehearsals will begin as early as June 6.
Production dates for the play are July 22-August 7.

If further information is needed, please email Artistic Director Kevin Colbert at
LofteDirector@Lofte.com.
---
A Health Fair for Body, Mind, and Spirit!
Sponsored by Health & Healing Ministry
Saturday, April 30, 2011
9 a.m. - 3 p.m.
First Lutheran Church
1025 Ave D
Plattsmouth, NE

A Health Fair for Plattsmouth and the surrounding communities to come and discover
health related opportunities are in the area.
Participate and receive health screening information particular to age group and gender.
Health information and much more for Kids, Women, Men, Teens, and Seniors.
Pulmonary Function Testing
Kidney Early Evaluation Program will be present and free to everyone with hypertenstion,
diabeties, protein in the urine, or any early kidney disorder.
---
Plant Sale

Louisville Vol Firemen's Auxiliary
Help us raise money for scholarships, and other events that we help support!

Saturday, May 7th  9-2p.m.
Louisville Fire Station

Large selection of bedding and garden plants!
Jumbo Annual 6 Paks, Vegetable plants, Herb planters, Baskets, Vines,
Perennials, Grass and Much Much More!
Plants are grown locally by Janet's Jungle in Fremont, NE
http://www.janetsjungle.com/images3/louisville_secondary_page.html

Any questions please contact:
Teri McClun 234.4161
Candy McClun 234.4995
---
---
MARCH of DIMES' WALK for BABIES

The mission of March of Dimes is to improve the health of babies
by preventing birth defects, premature birth and infant mortality.
We're looking for walkers and sponsors for the health of these
precious babies!

Every day, thousands of babies are born too soon, too small and
often very sick. Our team is walking in March for Babies because
we want to do something about this. I know you care, too. That's
why I'm asking you to join us. It's easy..use this link and sign up....
http://www.marchforbabies.org/s_team_page.asp?seid=1508329
If you can't walk with us, please help by donating to our team. You
can do so right on this page. Thank you for helping us give all babies
a healthy start!
Sunday, May 1, 2011
Mahoney State Park
28500 West Park Hwy
Ashland, NE 68003
Walk Distance: 3 miles
Registration Time: 9:00 AM
Start Time: 10:00 AM
Chapter: Northeast Division
Phone: (402) 496-7111
Click on the link below to sign up!
http://www.marchforbabies.org/s_team_page.asp?seid=1508329
There will be free admission to the park, free parking, free
breakfast (Krispy Kreme & Starbucks) and lunch.  For
the kids a big top tent will be full of carnival games to
play.  Entertainment after the walk will be the String Beans
Band (kids band). The lunch is being provided by Arby's and
Blue Bunny ice cream for a cool treat!
"Team Dannielle"
Dannielle was born at 28 weeks.  She weighed 1lb 13oz and
was 14" long.
Today Dannielle weighs 13lbs and is 23" long.
She has come a long way thanks to the March of Dimes and
their research.
Thanks!
Jason, Teri & Dannielle McClun
Questions: TeamDannielle@yahoo.com or contact
Jason & Teri McClun 402.234.4161
---
Global Water for Food Conference in Lincoln May 1-4
Sunday, May 1, through May 4
Cornhusker Marriott Hotel, 333 S. 13th Street, Lincoln, Neb.,

International experts will explore potential solutions for growing more food with limited
water to feed the world's rapidly growing population at the third annual global Water for
Food Conference May 1-4.
"Paths to Solutions" is the theme of this year's conference at Lincoln's Cornhusker
Marriott Hotel, hosted by the Robert B. Daugherty Water for Food Institute at the University
of Nebraska and the Bill & Melinda Gates Foundation. The conference fosters international
dialogue on key issues related to the use of water for agriculture. It provides opportunities
to learn from speakers with extensive experience and perspectives from diverse cultures.
Registration is $250, which includes all conference events, materials and meals. Online
registration, schedule and the latest information on speakers are available at the
conference website: http://waterforfood.nebraska.edu/wff2011.
"This conference attracts experts from across Nebraska and around the world who are
committed to developing solutions to one of mankind's great challenges: how to feed a
rapidly growing global population with finite amounts of land and water," said James
B. Milliken, University of Nebraska president. "The University of Nebraska's Water for
Food Institute, which builds on the university's long history in water research and policy
analysis, is taking a leadership role in this important international issue."
Featured speakers will include Jeff Raikes, CEO of the Bill & Melinda Gates Foundation;
Anil Jain, managing director, Jain Irrigation Ltd. of India; Anders Berntell, executive director,
Stockholm International Water Institute; Pasquale Steduto, principal officer, United
Nations/FAO Water; Andras Szollosi-Nagy, rector, UNESCO-IHE Institute for WaterEducation;
and others. More than 30 speakers and panelists will discuss diverse approaches to
meeting the challenge of producing enough food with limited water supplies. Sessions
will include panel discussions featuring agricultural producers from several countries; a
CEO panel offering industry perspectives on water for food challenges; technical sessions
on "Quantitative Food Security: Yield Gaps, Water and Nitrogen Productivity," "Maximizing
Water Use Efficiency in Agriculture," and "Evaluation of Aquifer Resources in Sub-Saharan
Africa" and a case study on "Securing Water for Agriculture: California's High-Stakes
Challenge."
The 2010 conference drew more than 300 representatives from universities, agriculture,
industry, government and nongovernmental organizations worldwide and more are expected
this year. The conference is the preeminent event of the university's Water for Food Institute,
a research, policyand education institute established in 2010 and committed to efficiently
using the world's limited freshwater to ensure a reliable food supply. Participants in the
2011 Water for Food Conference will help inform the institute's work. "The University of
Nebraska is proud to join with the Bill & Melinda Gates Foundation to host what is surely
becoming the leading conference in the world focused on the strategic use of water for food,"
Milliken said.
---

HARMONICA WORKSHOP / CONCERT

David Seay, Master Artist with the Nebraska Arts Council, will be presenting a
Harmonica Workshop/Concert
Sunday, May 8
2:30 PM
Old Avoca Schoolhouse
Avoca, Nebraska

The concert will be downstairs in The Old Avoca Schoolhouse, and  followed by
light refreshments, and a jam session with the performers.  Avoca is in southern
Cass County, Nebraska, on the 13 C Spur,  one mile south of Highway 34.
Admission is $5.00 for adults, and $1.00 for children and students.
Decent 10 hole diatonic harmonicas in the key of C will be available for purchase
for $3.00 each so everyone can join in the fun.  For more information, write to
Greenblatt & Seay, The Old Schoolhouse, P.O. Box 671, Avoca, Nebraska, 68307
or call 402-275-3221, or e-mail them atdebby@greenblattandseay.com.
The historic Old Avoca Schoolhouse was built in 1925, and has been the home of
the Schoolhouse Performance Series since 1990.  Music lessons, workshops, fiddle
camps, and field trips are offered by Schoolhouse residents, Greenblatt & Seay and
are available by appointment.
Avoca is in southern Cass County, Nebraska, on the 13 C Spur, one mile south of
Highway 34 and three miles east of Highway 50. For more information, write to
Greenblatt & Seay, P.O. Box 671, Avoca, NE, 68307, or call 402-275-3221, or
e-mail them at g-s@greenblattandseay.com, or visit their web site at
www.greenblattandseay.com.
###
Workshop for Folks Who Have Never Fiddled

For folks who have never played a fiddle or violin, and are brave
enough to try, come to the

Schoolhouse Fiddle Workshop for Folks Who Have Never Fiddled.
Championship fiddler and fiddle book author, Deborah Greenblatt,
will share some hints about beginning fiddling, shopping for a fiddle,
reading music, playing by ear, etc.  Fiddles will be available for
participants to play, and source lists and advice for further study will
be provided.
The Workshop takes place on Saturday, May 14, 2011, 1 PM - 3 PM,
in the Old Avoca Schoolhouse, Avoca, Nebraska. 
Pre-registration is required, enrollment is limted, and there is a $20.00 fee.
For more information, call 402-275-3221, or send an e-mail to
debby@greenblattandseay.com.
###
SCHOOLHOUSE FIDDLE CAMP REGISTRATION is OPEN NOW

Registration is now open for the 2011 Schoolhouse Fiddle Camps, in the Old Avoca Schoolhouse,
in Avoca, Nebraska.
Deborah Greenblatt, championship fiddler, author of many fiddle collections, will help the campers
get in touch with their inner fiddler.  The course of study during the Schoolhouse Fiddle Camps will
be designed specifically for the individual campers who sign up.
Fiddle Camp for Beginners is Monday, June 13 - Friday, June 17.  This 5 day camp includes some
of the basics and fun of fiddling, such as performing in public, practice techniques, reading music,
playing y ear, and jamming.  Fiddling styles include bluegrass, Cajun, Irish, Klezmer, old-time, and
newly composed tunes by the campers.  Movement and singing are included in the experience.
Fiddle Camp for Intermediate/Advanced Fiddlers is Monday, July 11 - Friday, July 15.  Campers
will discuss picking tunes for contests, performing in public, practice techniques, reading music,
playing by ear, playing for dancers, back-up fiddling, arranging twin fiddle pieces , and jamming.
Many fiddling styles will be represented, including original compositions by the campers. 
Campers can sign up for all 5 days, or just 2 days, or just one day of Intermediate camp.
Monday & Tuesday is for reading fiddlers/violinists who want to read more tunes. This mini-camp
is perfect for fiddlers who want to improve their music reading skills, and for classically trained
violinists, violists, and cellists who are interested in various fiddling styles. Using sheet music in
standard notation, these campers will get to improve their sight reading, and experience the fun
of playing fiddle tunes at the same time! Fiddling styles included in the sessions will be tailored
to the interest of the campers who register.
Wednesday & Thursday is for fiddlers/violinists who want to learn tunes by ear. This mini-camp
is designed to jump-start your ability to pick up tunes quickly by ear, and to make them stick!
Tunes used will reflect various styles, meters, tempos, and difficulty levels.
Friday is for fiddlers who "just wanna have fun". This mini camp includes jamming, modulating,
singing, dancing, experimenting, sharing, improvising, and playing fiddle related instruments.
Each day is scheduled from 9 AM - 1 PM.  Registration is available on line at
www.greenblattandseay.com.
For more information, contact Deborah Greenblatt at debby@greenblattandseay.com.
---

The Otoe County Genealogical Society will be the local host society
for the 34th Annual Nebraska State Genealogical Society conference
that will be held at the Nebraska City First United Methodist Church
from May 6th through the 7th.  The conference will feature nationally-renown
speaker, Gail Blankenau, whose presentations include: Breaking through
with Land Records, Introduction to German Parish Records, Dating and
Identifying Your 19th Century Photographs, Keeping Up with the Joneses...
and Smiths, and Rich Resources for Poor Ancestors.
Cost for the 2-day conference is $75.00 and for a 1-day session is $40.00.
Registration information for the conference can be found on the Otoe County
Genealogical Society's main web page.
---

HOW to SUBMIT ARTICLES for this NEWSLETTER...
Event announcements and advertising can be an enormous expense when
you're wanting or needing to get the word out.  If you've checked into regular
newspaper pricing lately for such items, you'll know what I'm talking about.  So
why spend your hard-earned money, when you can accomplish the same thing
right here - FREE - on your local news website?
Below is a list of categories that will cost you absolutely nothing, except the
time to submit it, (which you'd have to do with a regular newspaper anyway):
Wedding / Engagement Announcements and Photos
Birth Announcements
Letters to the Editor
Birthday Greeting
Upcoming Events
Cards of Thanks
Lost and Found
Obituaries
Recipes
and So Much More.
That's right!  These are all items that can appear FREE of CHARGE
in each Wednesday's Murray Newsletter and/or Calendar!
All YOU have to do is send the information to us - it's that simple!
Deadline for submissions to each week's Wednesday Newsletter is
NO LATER THAN NOON on the prior MONDAY and it's so easy to submit
your news.

1.)  You may call your information to 402-235-2926,
Leave a voice mail with your name phone number.
2.)  Email your story to Editor@MurrayNebraska.com
NO 'zip' files, please, and send photos in jpg format, if possible,
no larger than 340 x 480 pixels. (Picnik.com is a FREE photo editing website
where you can edit your photos before submitting them.  Try it, it's easy - and FREE!)
3.)  Send items via the U.S. postal service to:
Editor, MurrayNebraska.com
201 N How Ave, Murray, NE, 68409-8403. 
(When mailing items you'd like to get back, please enclose a self-addressed,
stamped envelope.)
Remember to include 'who, what, when, where and why', along with any other
helpful details, such as a contact person and phone.
Thanks for helping to keep YOUR Murray Newsletter fresh and up-to-date!

***


SUBSCRIBE to the MURRAY NEWSLETTER...

We're glad you're enjoying reading the FREE Murray Newsletter!
Would you like to automatically receive it every week?
At the top of the 'Home' page, just slide your mouse over the 'WHAT'S NEW' tab. 
When the drop-down menu appears with 'NEWSLETTER', slide the mouse to
the right to 'SUBSCRIBE to NEWSLETTER', then fill in your e-address.
It's absolutely FREE and no need to worry...we won't sell or distribute your
address to anyone!
Community Sustaining Sponsors 2011

2011 Community Sustaining Sponsor

2011 Community Sustaining Sponsor

2011 Community Sustaining Sponsor

2011 Community Sustaining Sponsor

2011 Community Sustaining Sponsor

2011 Community Sustaining Sponsor

2011 Community Sustaining Sponsor

2011 Community Sustaining Sponsor

2011 Community Sustaining Sponsor

2011 Community Sustaining Sponsor

2011 Community Sustaining Sponsor

2011 Community Sustaining Sponsor

2011 Community Sustaining Sponsor

2011 Community Sustaining Sponsor

2011 Community Sustaining Sponsor

2011 Community Sustaining Sponsor